edalics' EDA Market Executive Briefing is specifically prepared for Engineering, Finance & Procurement managers with EDA tools budget responsibility, providing an in-depth concise analysis and interpretation of the latest quarterly EDA Market data:
Electronic System Design Alliance (ESD Alliance) EDA revenue statistics
Semiconductor Industry Association revenues
Top EDA suppliers' revenues + other quarterly details
Summary of EDA tool product releases, acquisitions etc.
Pertinent comments in the main EDA suppliers investor calls
Relevant details from EDA suppliers 10-K/Q SEC filings
Trends graphs of collated input data from these various data sources provide a comprehensive EDA market overview (in powerpoint format for individual slide reuse), e.g.: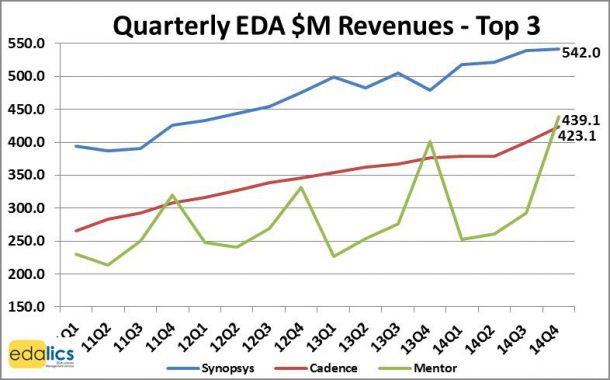 An EDA Market Executive Briefing extract can be viewed at: EDA News
Key Benefits:
Deliver relevant EDA Market news efficiently to key EDA budget managers
Be better prepared for all meetings and discussions with EDA suppliers
Provide analysis of latest EDA market data for internal meetings in slide format
Free up internal bandwidth tracking and compiling relevant EDA Market news
A one-year subscription provides 4 quarterly EDA Market Executive Briefings.
To receive a sample briefing please email: EDAExecBrief@edalics.com